The Dishwasher Flooded My Kitchen!
9/1/2021 (Permalink)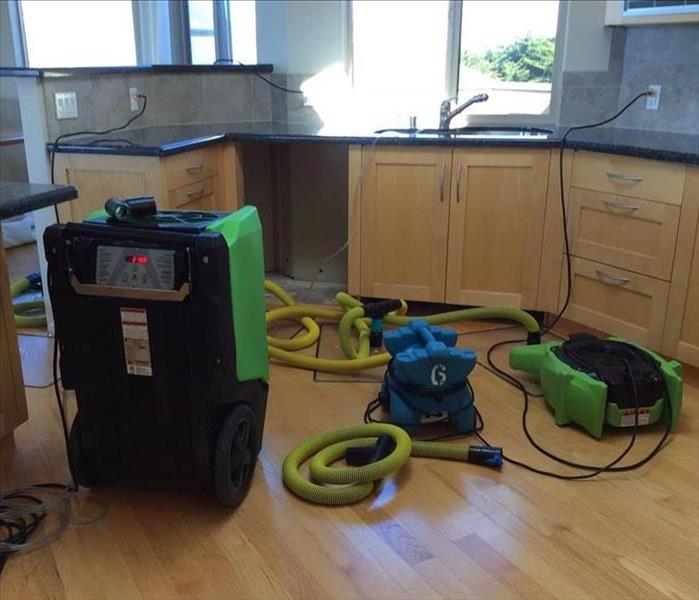 This leaking dishwasher in San Rafael caused extensive water damage to the floor of the kitchen and traveled to the dining room.
Protect Your San Rafael Home Against Dishwasher Water Damage
The dishwasher makes life much easier and allows you to spend more time doing things you enjoy, instead of painstakingly handwashing countless dishes. Although the dishwasher is one of the most efficient appliances in the kitchen, it can also be a primary source of significant water damage. Dishwashers face their fair share of usage and can cause water damage to cabinets, floors, and even walls. In addition, water stains on the floor around the unit and corroded or frayed water lines that become brittle can indicate a leak. Therefore, it is critical to address the problem as soon as possible.
Why Did My Dishwasher Flood?
Faulty Door Latch - Is there water gathering under the dishwasher door? Your problem is most likely due to a leak in the door itself. It's possible that your door latch is bent, loose, or not latching properly. If water still rushes out of the door after tightening the latch, it may be time to replace the gasket. This is a rubber seal on the door that keeps water from running out. Check your dishwasher for cracks or symptoms of potential damage frequently. Allow the pros to manage your situation if you are concerned about the worn-out gasket.
Broken or Loose Lines - Dishwasher hoses and connections may become loose after an extended length of time. It's crucial to understand that a dishwasher has two types of connections. One line supplies clean water and connects to the kitchen faucet, while the other drains dirty water. Therefore, inspecting it at least once every six months is necessary because it can become loose.
Leaky Dishwasher Tub - If your dishwasher has experienced a lot of us, a hole in the tub may have developed, causing a leak. In addition, detergents and minerals can corrode the bottom of the tub, allowing water to seep through and collect beneath the dishwasher. Some tubs may be repaired, but depending on how long you've had your dishwasher and the severity of the problem, you may need to replace it altogether.
Incorrect Dishwashing Detergent - In a dishwasher, always use the correct type of dishwasher soap. You may get a lot of suds buildup using dish soap or laundry detergent, which will force soap and water out the door. Only use dishwasher detergent to avoid this problem.
Dishwasher Not Level - There's a good likelihood that water will pool underneath your dishwasher if it isn't level. All that extra pressure can eventually destroy the gasket, necessitating its replacement. A dishwasher that is uneven can cause substantial damage and warp your floors.
Overfilled Machine - It is possible that your unit is absorbing more water than it should and isn't draining correctly. Water will be forced out of your dishwasher and onto your floor because of this action. It's possible that the drain isn't functioning efficiently, and this is an excellent opportunity to check the owner's manual or the manufacturer's website, depending on the type of dishwasher.
Drainage Issue - If the water doesn't drain properly during a dishwasher cycle, the water level may climb higher than anticipated. Check for a blockage in the filter at the bottom of the dishwashing tub that is blocking normal draining.
Prevent Water Damage from Your Dishwasher
Learn Everything There is to Know About Your Dishwasher
Each model is different, and it is critical to check over the manual once again because it will provide suggestions for the best usage. Knowing vital information can help you avoid problems that could lead to water damage.
Make Sure Your Dishwasher Is up to Standard
Check your dishwasher regularly, just like the rest of your home's appliances, to ensure it's in good operating order. Begin with the rubber seals, then check for corrosion and unclog any nozzles that may be clogging up your dishwasher, causing flooding.
Only Use Parts Designed for Your Appliance
The hose and seals should be compatible with the kind of model of your dishwasher. Hoses and seals that aren't up to snuff can create a leak.
Make Monitoring Your Water Lines a Top Priority
If you notice a problem with your water lines, call a professional right away. To avoid significant water damage to your property, this check should be completed every six months.
Only Run the Dishwasher When Someone is Present in Your Home
There is no warning sign when a dishwasher floods, and if you are not home when the appliance is turned on, and leaks, you may be in shock when you return home. Keeping the dishwasher running is the best way to detect a leak before it causes too much damage when someone is at home.
How to Repair Water Damaged Caused by Dishwasher
Make sure your dishwasher is turned off as soon as you notice it is leaking or has leaked. Using a towel or a mop, soak up any visible water on your floor. It may be necessary to remove the dishwasher from beneath the counter to drain any excess water. SERVPRO of S. San Rafael/Sausalito can ensure that your floor is dry and free of moisture, contributing to mold growth.
Need Help with Appliance Leaks and Water Damage in San Rafael? We Can Help!
SERVPRO of S. San Rafael/Sausalito is your locally owned and operated water damage restoration company. With years of experience, our team has restored countless homes and businesses after appliance water damage.
Call Us Today for Immediate Assistance - (415) 479-2900